This throne was commissioned to Don Felix Granda in 1927 by the Brotherhood of Our Father Jesus of the Holy Sacrament and Our Lady of Solitude, Malaga in order to processional a recumbent Christ that the brotherhood owned.
The work was designed by the painter José Moreno Carbonero (1858-1942) and follows the aesthetic line of late-Romantic Spanish painting of the late nineteenth century, a style closely related to the Anglo-Saxon Romantic aesthetics of Wagner and Ruskin.
The throne, in the form of a catafalque, is profusely decorated with iconographic scenes made, above all, in metal and ornamented with the techniques of embossing, enameling and filigree. The carvings of the Evangelists in the corners, as well as the candelabra, were made in bronze.
During the Civil War the image of Christ disappeared and the Brotherhood commissioned the artist Prados Lopez a new one, which is the one that today goes out in procession. The throne, on the other hand, suffered serious damages. In 1943 Felix Granda carried out the restoration process.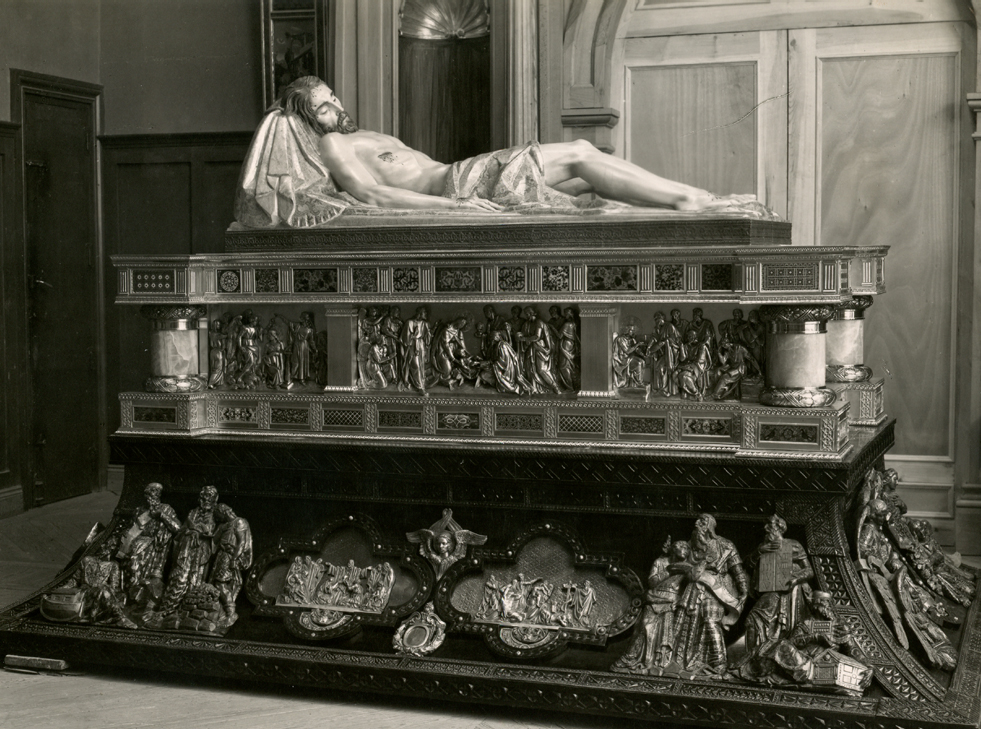 Throne of the Holy Sepulcher after its restoration in the 40's. On it, the recumbent Christ carved by Julio Vicens according to the original model of José Capuz.