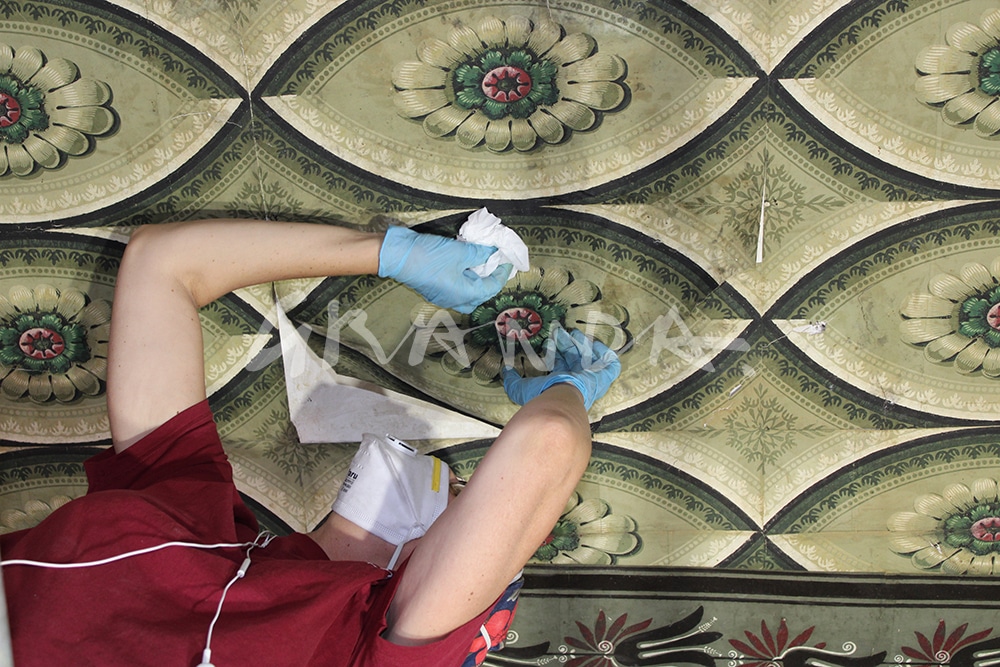 On December 23rd, the official visit of personalities took place, bringing to an end the restoration of the mural decoration of the spaces of the Quintanar Palace in Segovia. The intervention has been carried out by Talleres de Arte GRANDAunder the direction and investment of Department of Culture and Tourism of the Junta de Castilla y León (Regional Government of Castilla y León).
The palace, whose origin dates back to the 15th century, partially preserved the mural decoration of its rooms on the second floor. These decorations are dated between 1770 and the mid-nineteenth century, and reflect the social and intimate life of the upper social classes of Segovia at that time. Specifically, it was the Marquises of Quintanar who lived in the palace until the 20th century.
Thus, in its walls and ceilings could be distinguished, in successive layers, the evolution of decorative styles between approximately 1770 and the nineteenth century. The oldest decorations are mural paintings, which were later covered by other fashionable decorations, in which the use of wallpaper and fabrics stands out.
In both cases, their importance lies in the fact that very few examples of this type of decoration have survived to the present day. This scarcity is due, in part, to the fact that, in the recent past, these artistic manifestations were considered of little value, so no effort was invested in their conservation. The decoration of the Quintanar Palace The result of this approach has also suffered, so much of it had been lost or suffered great deterioration.
Our intervention focused on the cleaning, consolidation and reintegration of the pictorial motifs.in order to recover the ambience of the rooms. In addition, a wooden floor has been installed, inspired by period models, and the original finish of the historic woodwork has been recovered. In addition, the lighting systems have been replaced.
In totalten spaces have been recovered and have preserved their decorations.. Among them, it is worth mentioning the Room IIThe Pompeian style decoration, which dates back to the end of the 18th century, is the oldest of those preserved in the palace. In the Rooms I y III ornamental motifs have been identified on wallpaper from the French company Zuber et Cie, one of the oldest and most prestigious in Europe, still in business today.
In the Room IV a panoramic scene is preserved which is one of the first ones commercialized in France, identified as "English Garden" belonging to the Dufour et Cie factory. This composition represents several scenes set in an Anglo-Chinese garden with abundant vegetation, architectural elements and fashionable characters. The set preserved in Quintanar is incomplete, but it is nevertheless a very rare panorama, of which only four complete copies have been preserved in the whole world.