A SIDE CHAPEL DEDICATED TO FOUR BENEDICTINE MARTYRS
The Project at the Monastery began on the occasion of the integration of two elements -a reliquary urn and a relief - in one of the side chapels of the Monastery of Silos. The chapel is dedicated to four martyrs of the order of St. Benedict who were killed during the Civil War because of their faith.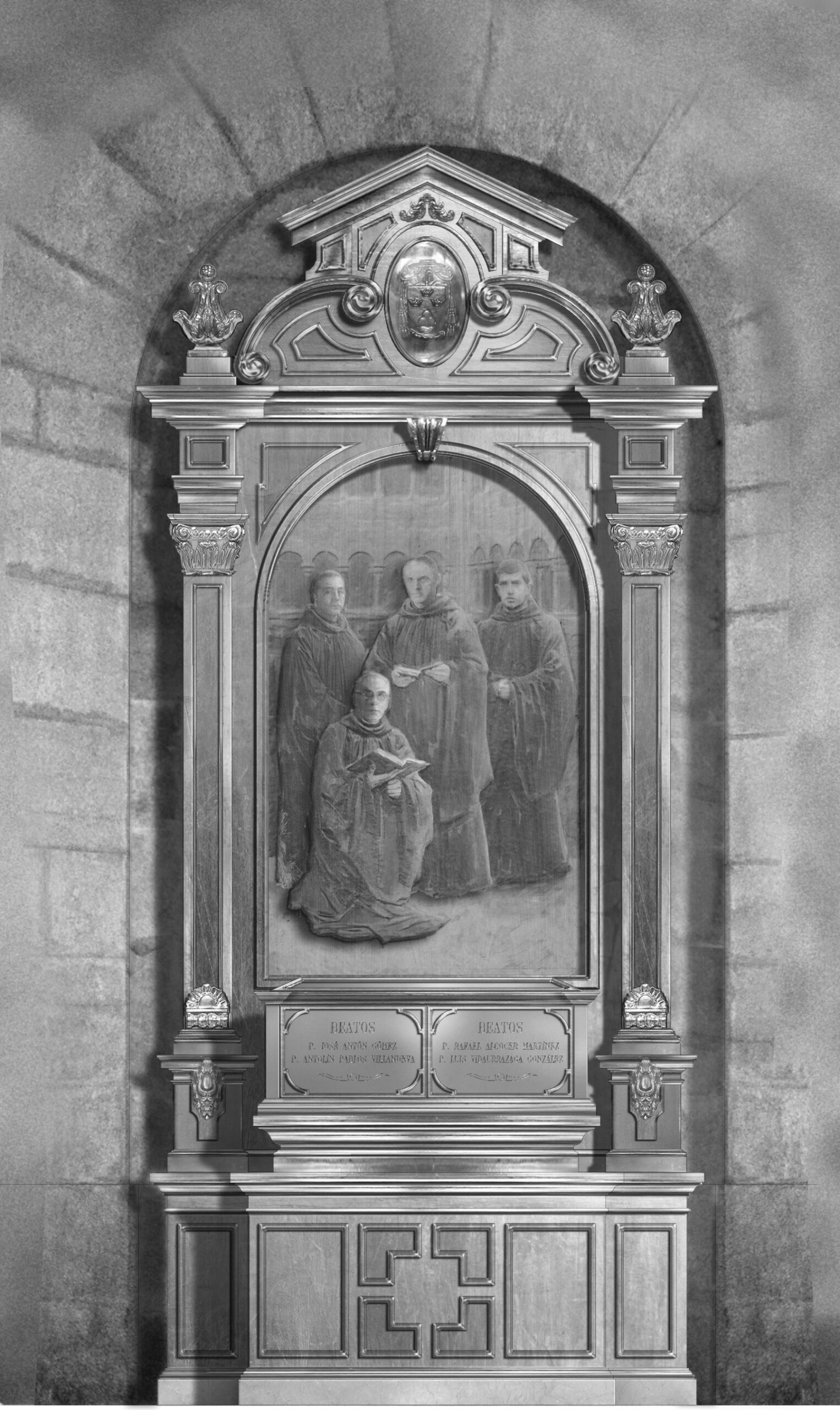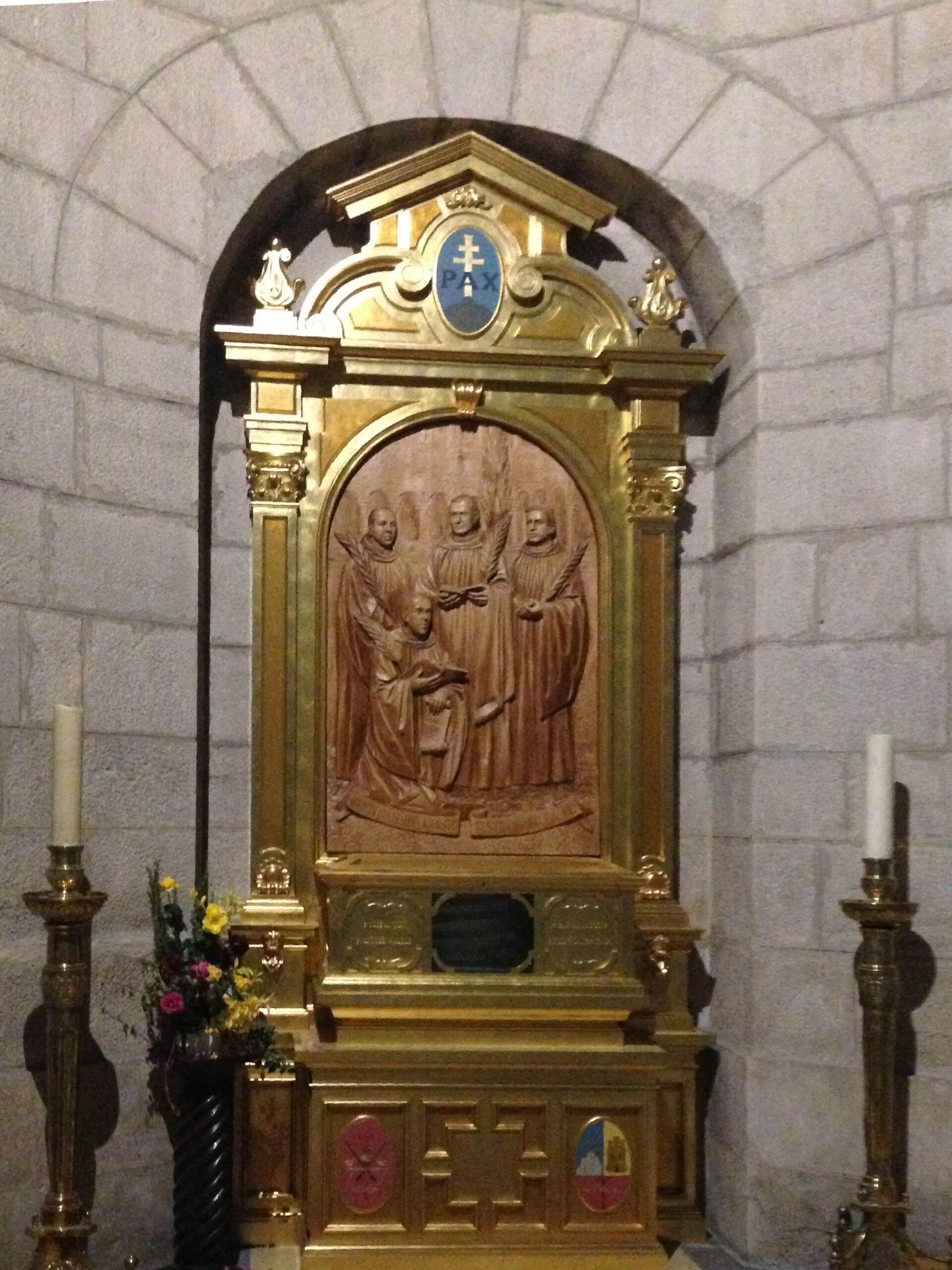 *Izda: Previous digital design
*Right: Final result with the inscription "Martyrs of Christ, witnesses to the faith".
On the other hand, the urnThe relics of the four religious, since the rest of the relics currently rest in the church of Our Lady of Montserrat in Madrid, a priory dependent on the Monastery of Silos since 1922 and the place where they resided during their lifetime.
Reliefconceived to be part of a altarpiece for the small chapelThe four were beatified in the Cathedral of La Almudena (Madrid) on October 29, 2016 in a ceremony presided over by Cardinal Angelo Amato, Prefect of the Congregation for the Causes of the Saints.
THE FOUR MARTYRS
PROCESS OF LIVE CARVING AND POLYCHROMY OF THE RELIEF
The relief, approximately 1.70 meters high, is made of linden wood and has been worked on live, with the technique of the live size.
The process started with a first sketch, in which the composition of the relief was defined, taking as a reference a previous painting. This painting represented two realities on the same canvas: in the lower part the Church of Our Lady of Montserrat and in the upper part the four martyrs, portrayed in very bright colors. From there, the following sketch was elaborated, which contemplated a single scene with two planes: the four martyrs in the foreground and the cloister of the monastery in the background.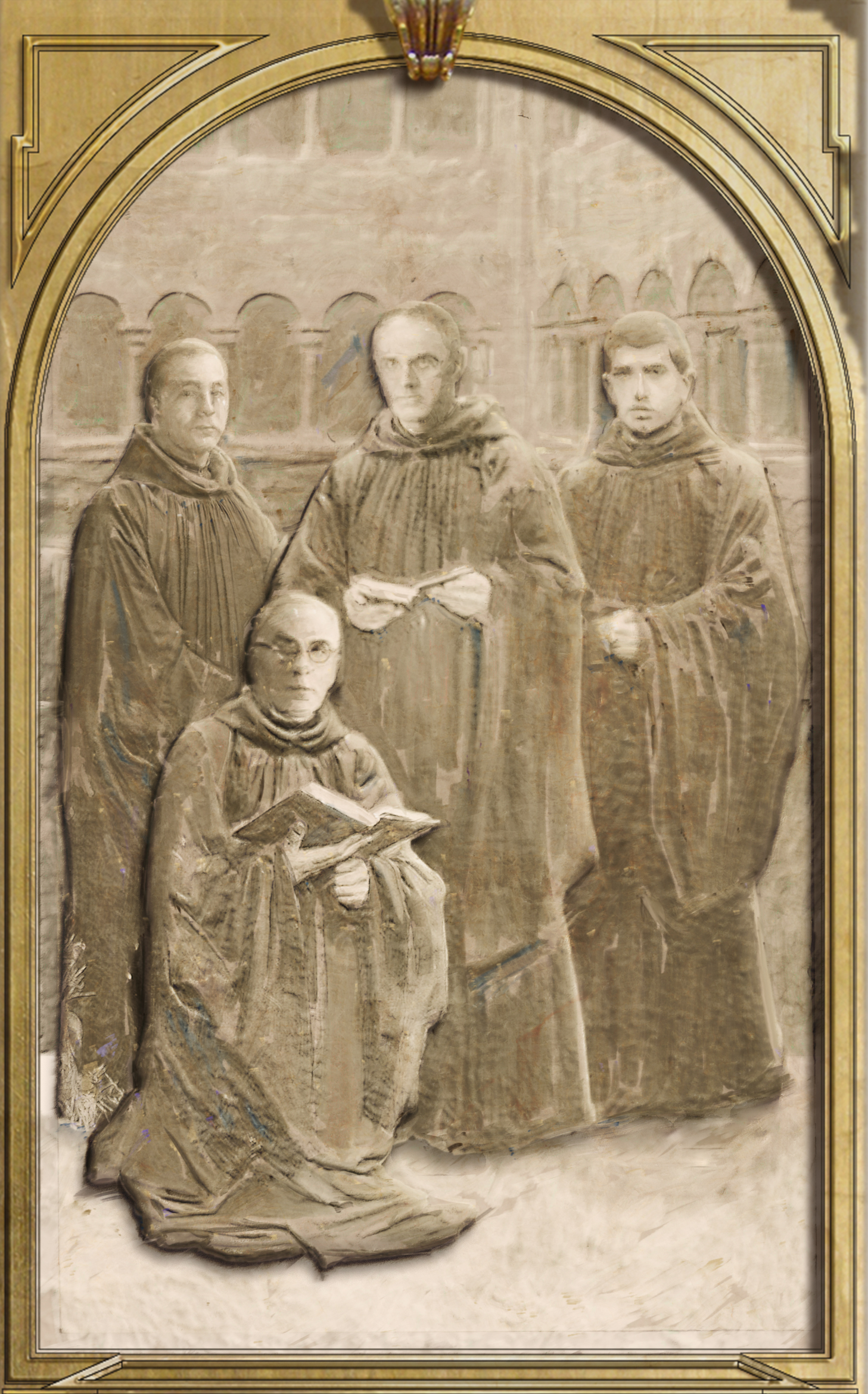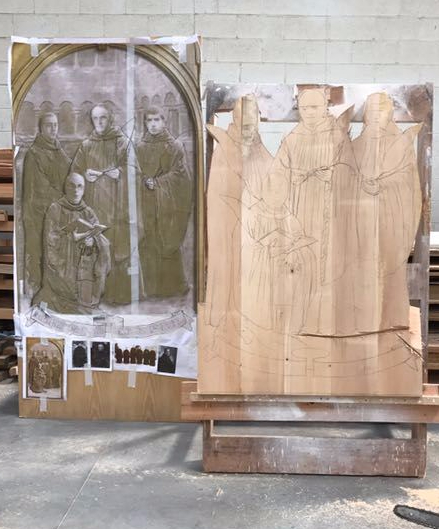 *Left: Sketch made digitally.
*Right: Wood prepared for carving.
Once approved, the carver began to work the wood, devastating it and extracting from the block the volumes that, later on, would be carved by hand until every detail was defined.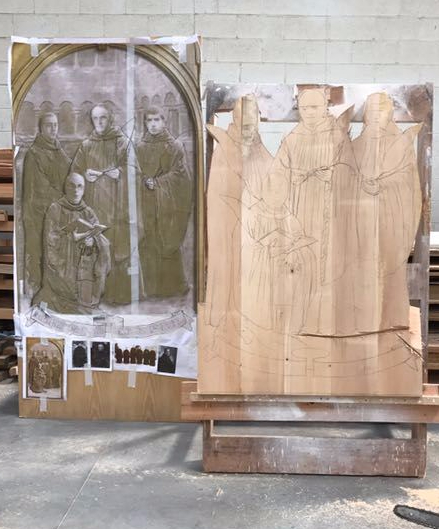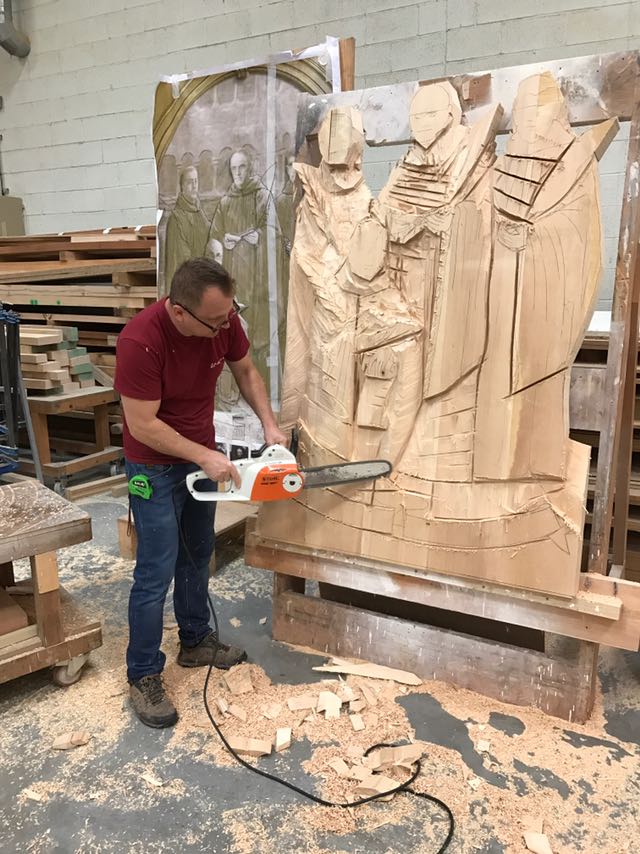 The modeling of the faces, on the other hand, was done first in clay, since we had documentation and real photographs that allowed us to know the physiognomy of each one of the blessed and thus we were able to represent each one with their own features. Later this modeling was digitized and milled in wood to be applied on the bodies.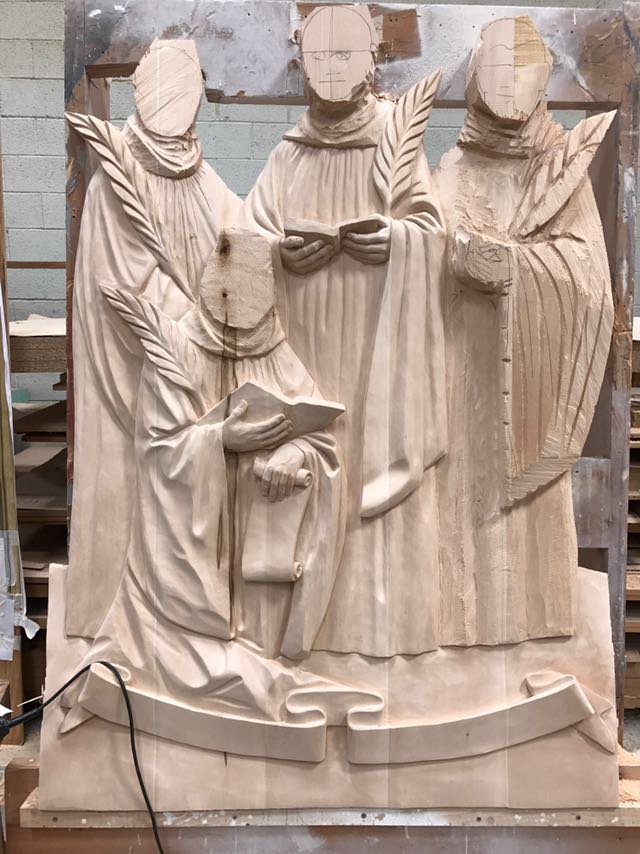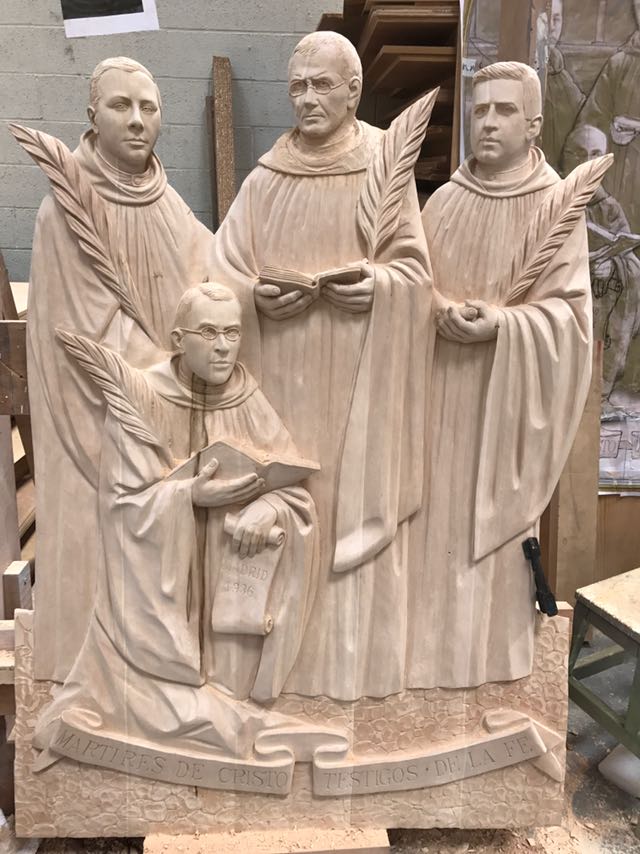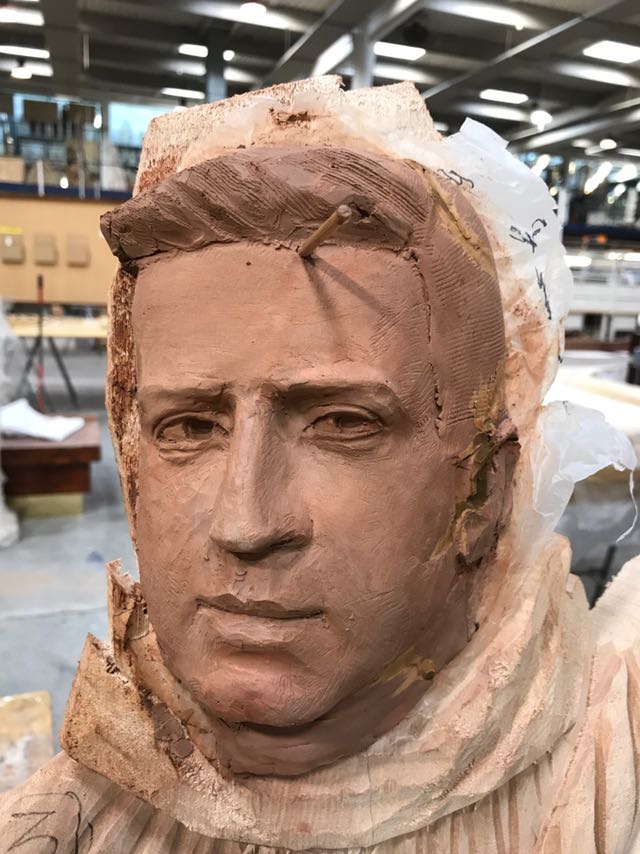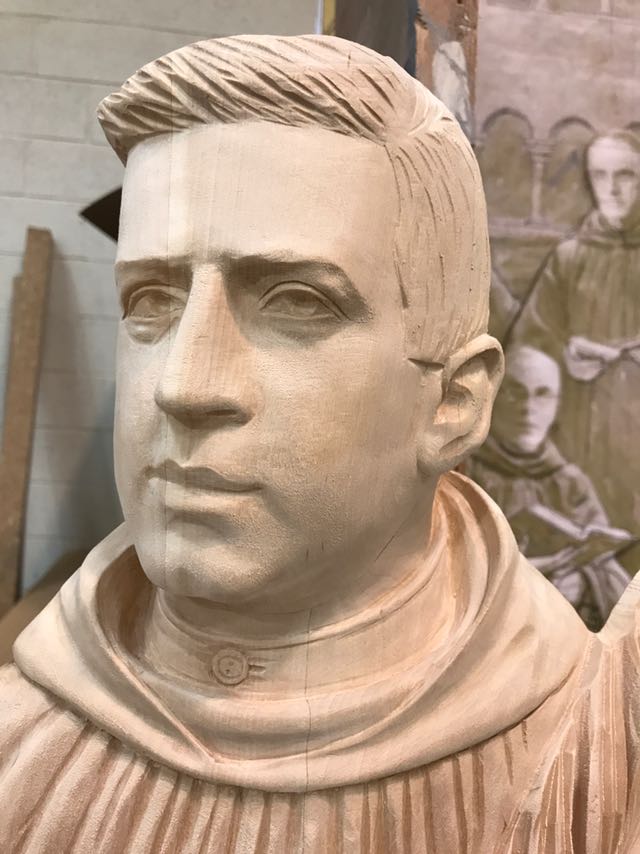 Once the relief was finished, it was fixed on the wooden altarpiece, previously gilded in matte German gold. This structure served to frame the new altarpiece and to contain the reliquary urn containing the relics to be venerated.